Live dealer games are the latest trend in online casino gaming. They provide an authentic, dealer-led experience from the comfort of player's homes. But what are live dealer games and which ones are available online?
What are live dealer games?
Live dealer games bring together the real-life casino experience and the convenience of playing online. Players take their seats virtually, but the games are dealt by real dealers who operate from studios or casinos.
This means a professionally trained human dealer is responsible for the action. They will shuffle the cards, spin the wheel, and control the pace of the game. For many players, this type of online casino gaming provides a number of benefits.
First and foremost, it offers a unique atmosphere that merges the real life and online environments. Live dealer games usually offer a chat feature so players can talk among themselves and interact with the dealer. This social factor is a major attraction for players.
Although reputable online casinos use random number generators to ensure betting is fair, some players still like to know that a human has shuffled the deck and dealt the cards – they simply prefer the human touch.
Overall, live dealer games are a fun, fair and interactive way to experience online casino gaming. It's like playing at one of the best casinos in the world from the comfort of home.
Where can you find live dealer games?
Live dealer games are available at major online casino sites. What's important here is that you find a platform that is legal, legit, and suitable for your needs.
Once you have found a suitable online casino platform, one that is licensed, offers multiple deposit methods, and swift withdrawals, you'll need to check which live casino games are available on the site. If your game of choice is roulette, then find an online casino that has plenty of live dealer tables for roulette. Similarly, if your favourite game is blackjack, seek out a platform that has live dealer blackjack running around the clock. 
If you like to switch it up and play a variety of casino games, search for a platform that accommodates your preferences.
What live dealer casino games are available online?
The most popular casino table games are widely available with live dealers online. If the site provides live dealer options, you'll nearly always find roulette, blackjack and baccarat, along with a few lesser known games.
Live dealer roulette – In roulette, the object of the game is to place bets on numbers or sections of the board. The live dealer will then announce that bets are finished and spin the ball around the wheel. Wherever the ball lands determines the winning numbers. Players will then be paid out according to their bets.
As one of the most popular casino table games, you can expect to find live dealer roulette at any site offering live dealer games. They bring the thrill of the famous wheel straight to desktop and mobile.
Live dealer blackjack – The aim is to beat the dealer's score by making as close to 21 as possible without going over and going bust. As blackjack is played against the dealer, having a real human dealer really adds to the feel of the game.
In live dealer blackjack, the dealer will be the one shuffling the deck, giving out the cards, and making the decisions on whether they will hit or stand. It's as close as you can get to the casino experience without actually being there.
Live dealer baccarat – In baccarat, players bet on whether the banker will win, the player will win, or on the hand being a tie. There are also a number of side bets available.
There are lots of rules and nuances to baccarat, but it's actually quite easy to play. It's a lively game and one that is enhanced by having a human dealer to call the action. Playing online can also be less intimidating for newer players.
Live dealer craps – Although it's a less popular casino table game, some online platforms will provide craps in live dealer form. In craps, players bet on rounds of dice throws, with each successive throw bringing more betting potential and therefore more tension.
Craps often attracts the noisiest and rowdiest crowds in the casino. It's a sociable game and one that is best shared with a table full of bettors. That's one of the reasons why craps converts well as a live dealer game. For those looking to experience the excitement of craps without the hassle of traditional registration processes, they can turn to the convenience of a explore no account casino. This type of casino allows players to dive straight into the action, enhancing the seamless and lively nature of the game.
Summary
– Live dealer games are online versions of casino table games that are hosted by a professional human dealer in a studio or casino.
– By merging the real world and online environment, live dealer games offer the excitement of the casino and the convenience of playing from home or on the move.
– Live dealer games are available at major online casino platforms. The main games on offer include roulette, blackjack and baccarat.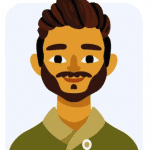 James Reynolds Johnson is a seasoned expert in the world of online casinos. With over 10 years of experience in the industry, James has a wealth of knowledge about the latest casino games, trends, and technologies. He has worked with some of the top online casinos in the world, providing expert analysis and advice on everything from game selection to payment methods. James is passionate about helping players find the best online casinos that offer fair games, excellent customer support, and generous bonuses. When he's not writing or researching, James enjoys playing blackjack and poker.