Billions of people gamble online. Others, do it for fun and the thrill that comes with playing high-risk casino games. But several consider online gambling a highly profitable venture and make a living off it. If you want to join the last category, you're in the right place.
Here are essential tips that will help you become a successful gambler and profit from online casino games.
Find a Reputable Online Casino
Becoming a successful gambler begins with finding the best online casino. Don't settle for the first site you come across. On the contrary, keep digging until you find a reputable gambling platform that offers everything an online gambler needs, including a wide variety of games.
While searching for a suitable online casino, check licenses and regulations. That is important because most jurisdictions require gambling sites to be properly licensed. Also, prioritize sites with exciting offers like free spins, sign-up bonuses, and daily cashback.
Play Games with the Best Odds and Highest Value
Although most casino games have a house edge, otherwise known as the casino advantage, several games offer players better odds of winning. These include video poker, baccarat, craps, and blackjack. They are an excellent choice for any player who wants to minimize losses. On the other hand, alternatives like Wheel of Fortune, keno, and slots often have the worst odds and the highest house edge.
If you want to rake in sizable earnings over your gambling career, go with high-value options like blackjack and Ultimate Texas Hold'em.
Manage Your Bankroll
Most online casinos only allow players with money to gamble online. That is why you need a bankroll. But your bankroll can only facilitate a fantastic gambling experience if you manage it well. Otherwise, poor management often leads to significant losses that force you to abandon online gambling prematurely.
Good bankroll management requires dividing the cash you've set aside for gambling into different portions. Once you've done that, use the allocated units to fund each wager. If you lose, don't encroach on the remaining portions because that can lead to a vicious cycle of chasing losses. The golden rule is to ensure no wager is more than 5% of your bankroll.
Practice Constantly
The phrase "practice makes perfect" applies to most known activities, including online gambling. The more you play casino games, the better you'll get. Regular practice lets you familiarize yourself with each game's mechanics and understand crucial rules. Not to forget, through practice, you learn risk management and acquire exceptional emotion control skills.
If you'd like to practice and hone your online gambling skills, free casino games should get you started. Many sites allow users to play demos for free without risking real money. You can use these games to gauge your abilities, study the rules, and develop your skills. Once you've exhausted free gaming options, graduate to low-stakes games and use them to become better at gambling.
Final Thoughts
To turn online gambling into a profitable venture, you need to find a good casino and play games you're good at. You must also wager your money in high-value games with exceptional odds. Lastly, don't forget to manage your bankroll and practice constantly. If you use these tips well, you'll become a successful casino player in no time.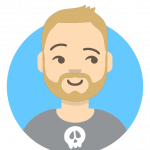 David Allen is a seasoned web content writer with a deep understanding of the online casino industry. With over a decade of experience, he has provided Ask-casino.com and various other platforms with insightful, reliable, and captivating content that resonates with both seasoned gamblers and newcomers alike. Hailing from Ontario, Canada, David brings a unique North American perspective to his articles, enriching them with local nuances and industry insights.
Outside of his professional endeavors, David is an avid gamer known in the digital realm as "lazywolf867". Whether he's spinning the slots or diving into a video game, David's passion for digital entertainment is evident. His work seamlessly blends his professional knowledge with personal experiences, ensuring readers get an authentic and informed viewpoint on all things casino.